Vacation! You've booked the hotel. You've planned your outings. You even know what souvenirs you want to be sure to pick up while you're out of town. There's just one problem: First, you have to actually get out of town.
1. And that means it's time for a road trip.
Now, as an adult, you might actually love road trips.
They're almost like a mini vacation before your actual vacation where you can listen to audiobooks and podcasts, see the sights, and unplug from your work emails.
But if you have young kids, it's a whole 'nother story.
Luckily for you, we've rounded up some of the Internet's best road trip hacks that will help keep your children occupied.
And help you stay sane until you (finally!) get to where you're going.
2. Starting with this clever tactic:
Chances are your kids are probably used to a system sort of like this one at school, so they may appreciate the consistency.
Just don't forget that everyone gets crabby on road trips sometimes!
They might just need a quick walk around a rest stop or a drink of water to be back to their cheerful selves — adults in the car included!
3. Always be prepared.
Keep a bag in your car filled with motion sickness medicine, some mints, and a light snack for anyone who starts feeling car sick.
It's always better to be prepared!
4. Are we there yet?
Every parent dreads the question: "Are we there yet?!" But somehow, that doesn't stop kids from asking.
In order to mitigate this, you could create a timeline of your trip with the major cities you'll be passing through in order. (It could just be a piece of masking tape on the ceiling of the car.)
Mark off where you are in your journey as you travel, so the kids have a better idea of where you are.
5. Make an "I Spy" Bottle.
Before your trip, fill a bottle with rice and a bunch of random doodads, then glue it shut.
Kids can spend pleeeenty of time searching for all the hidden treasures.
This next hack is perfect for any kid who loves playing with LEGO bricks!
6. Make a travel LEGO box.
A metal lunchbox makes an excellent LEGO carrying and building case with just a little bit of hot glue.
(Just don't forget to pack a lunch if you're gonna need it!)
7. Hooray for snacks!
Snacks are easily one of the best parts of road trips.
I love that this hack provides tons of variety and also comes in a handy case!
8. Travel bag surprises:
Pack a small bag of "surprises" for each major city.
The surprises don't have to be fancy — toys from the dollar store, activity books, a small snack — anything that will keep your kiddos occupied for a little while and give them something to look forward to.
9. Would you rather?
Ask your kids a series of "Would You Rather?" questions — don't forget to give your answer, too!
You could make your own deck like the one pictured above.
Or just Google a bunch of 'em in the car if you don't feel like spending an hour on another craft project.
10. So organized!
A shoe organizer makes a great seat-back organizer!
You can put water bottles, snacks, wipes, toys, crayons, or pretty much anything else in there to keep within easy reach of your kids. (That means less reaching into the back seat for you, too!)
This next hack is super clever!
11. Make an activity countdown!
We're huge fans of paper chain countdowns in my family.
Make one paper loop for every hour (or half hour) of your trip. On each one, write an activity that your kids can do.
As you make progress on your journey, you'll have a bunch of activities to look forward to, plus your kids will have a visual reference of how much longer you'll be in the car.
12. Playing a game with dice?
Put them in plastic containers to let kids roll them without worrying that they'll be lost to the abyss under the seats.
You can also make up your own dice games.
If someone rolls a 6, that means everyone has to spot 6 red cars before the next person rolls the dice! (Make up your own rules as needed.)
13. Magnets are your friend.
As for other games to play in the car, anything with magnets is absolutely brilliant (provided your kiddos are old enough not to put them in their mouth!).
You can make a Tic-Tac-Toe board out of an old Altoids can and a couple of magnets!
14. Road trip scavenger hunt:
There are all kinds of scavenger hunt printables like this one that you can prepare in advance.
If you don't have time, don't forget about the age-old classic "I Spy."
15. Bubbles!
This one's simple but still totally brilliant. Use the car's air vents to blow bubbles into the back seat.
You get to save your breath, and the kids still enjoy the bubbles.
This next hack is also a great one for plane travel!
16. These gel stickers are amazing.
These gel stickers can be found at the dollar store or online. Kids love putting them on the window!
Best of all, they can be moved around and don't leave any residue on your windows.
17. Pipe cleaners are also great!
A bag of pipe cleaners will keep some kids entertained for a good chunk of time.
They're also a great tool for working on identifying shapes, colors, letters, numbers, or sight words!
18. And don't forget about glow sticks!
Is there anything more delightful than glow sticks? I don't think so.
These are sure to be a hit!
Especially if any of your travel is happening at night or during the early morning.
19. Keep those snacks handy.
A piece of jewelry that also functions as an on-the-go snack?
Don't mind if I do.
20. This activity is simple, yet brilliant.
Take an old paper towel tube and cover it with the letters of the alphabet.
Then put letters on stickers and have your kids match the letters. This activity might cost you all of 50 cents to put together.
Bonus
This mom, who used a diaper as a coffee sleeve so her fingers wouldn't get too cold: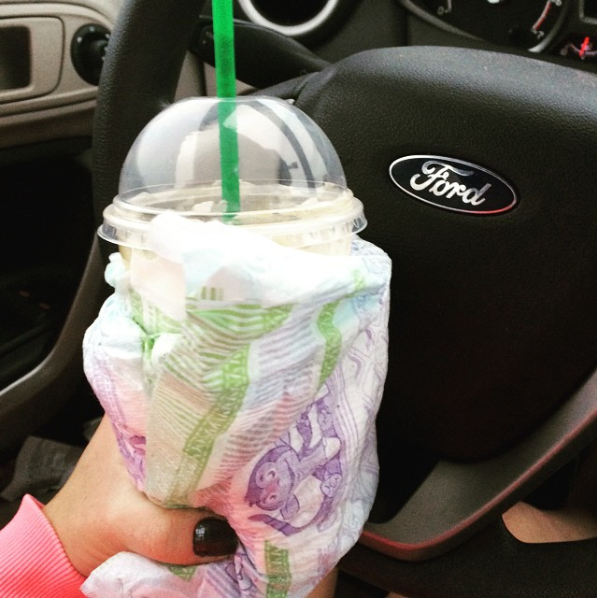 This mom, who stuck her kid's burrito in a popsicle holder to save herself a mess:
This mom, whose kid couldn't wait for their french fries to cool down, so she thought of a way to help:
This mom, who made a tablet viewing station with a freakin' ziploc bag: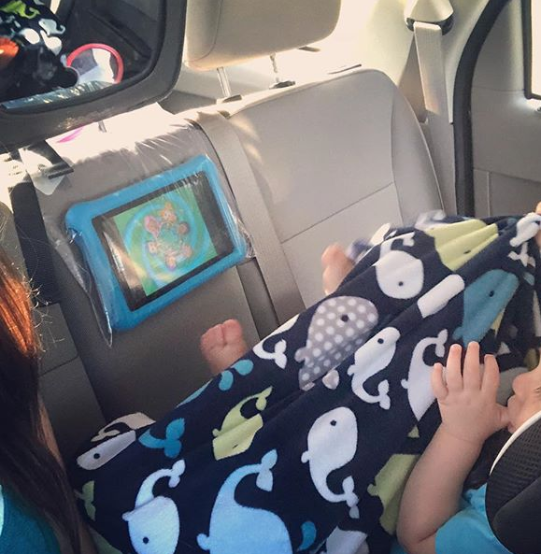 This mom, who made "toast fries" and "jam ketchup" to get her kid to eat their breakfast: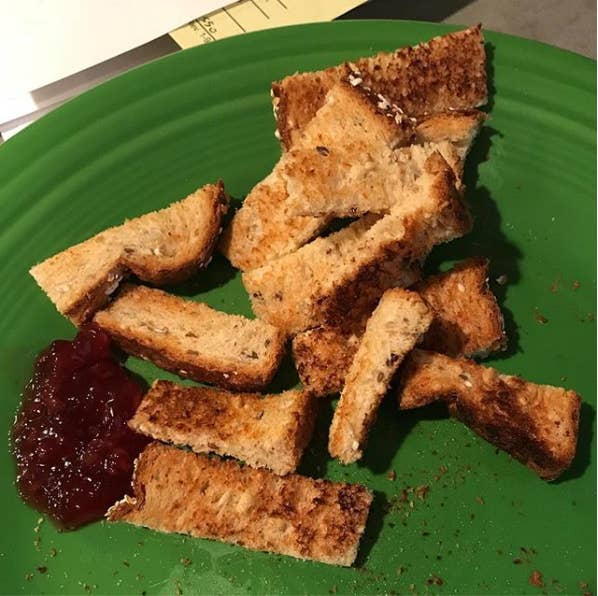 This mom, who super-glued those itty-bitty doll shoes to the itty-bitty dolls' feet so they wouldn't get lost anymore: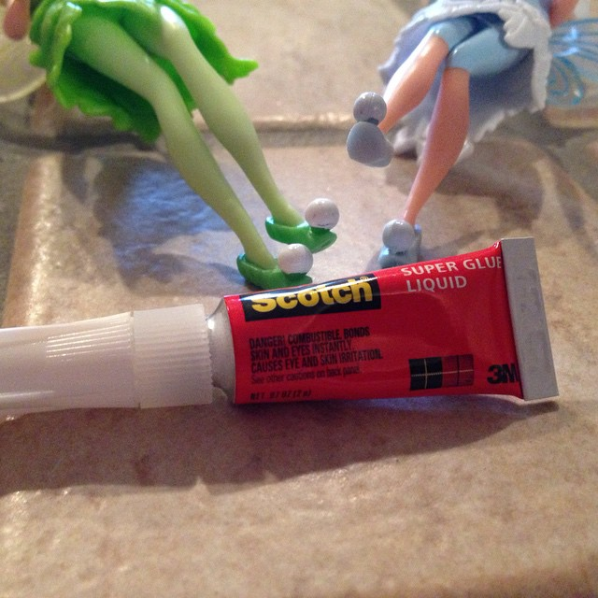 And this mom, who — in a bind — made a makeshift diaper out of a grocery bag: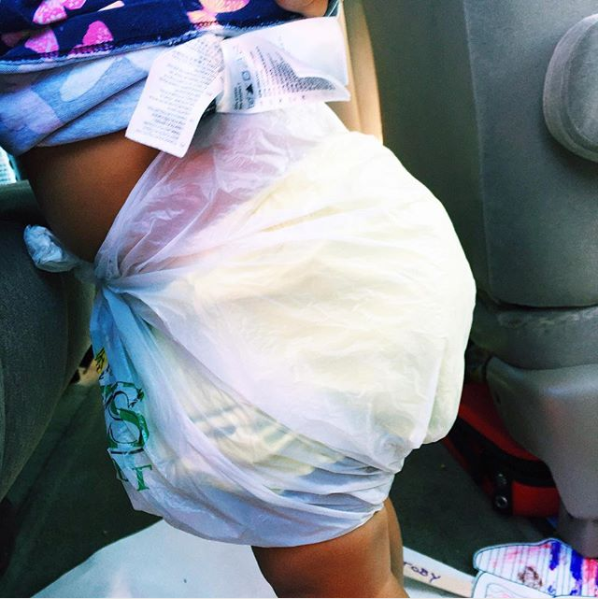 This mom, who used her kid's wheels to bring in all the groceries at the same time: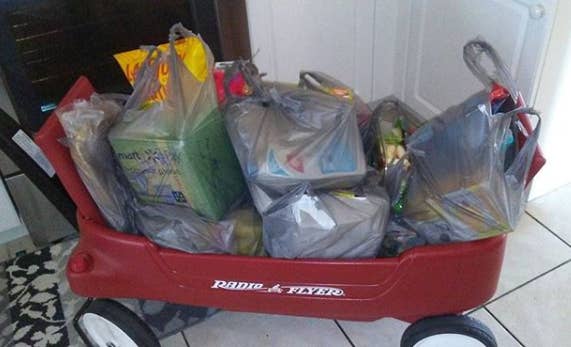 This mom, who used her baby's old sock to keep her wrapping paper together: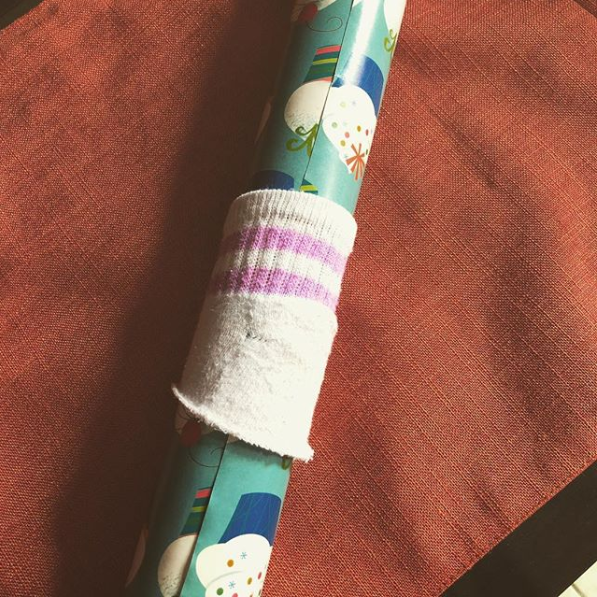 This mom, who hid her M&Ms in her coffee cup, so her kids wouldn't catch on: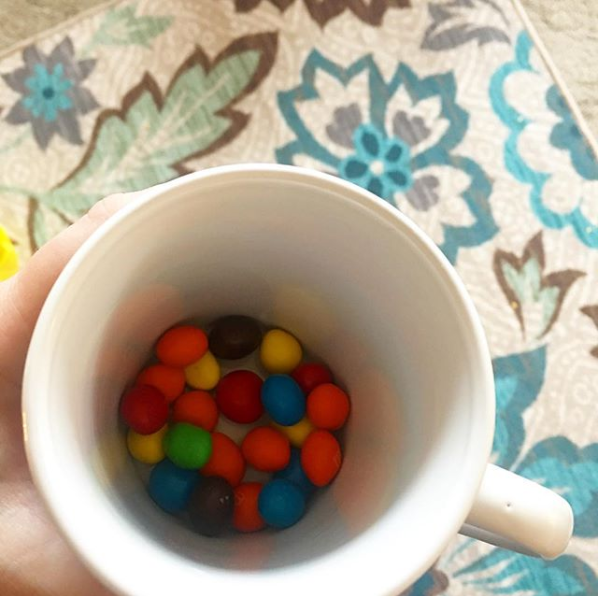 This mom, who took the clamps off a pants hanger and used them as chip clips: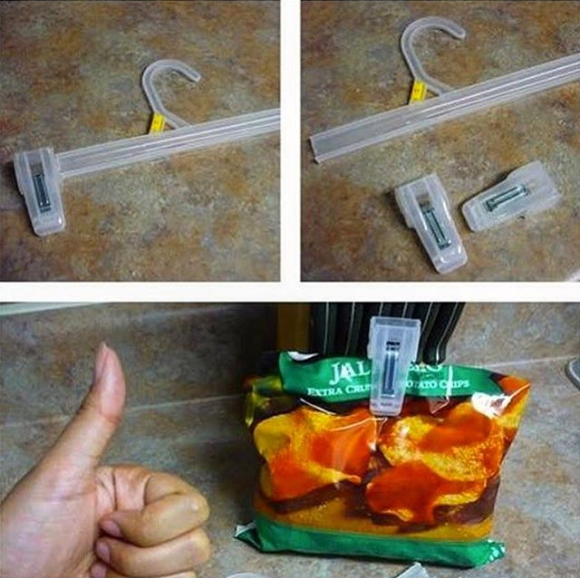 This mom, who used command hooks to hang her kids' cups on the water dispenser for easy access:
This mom, who needed to move the table, so she borrowed her kid's skates: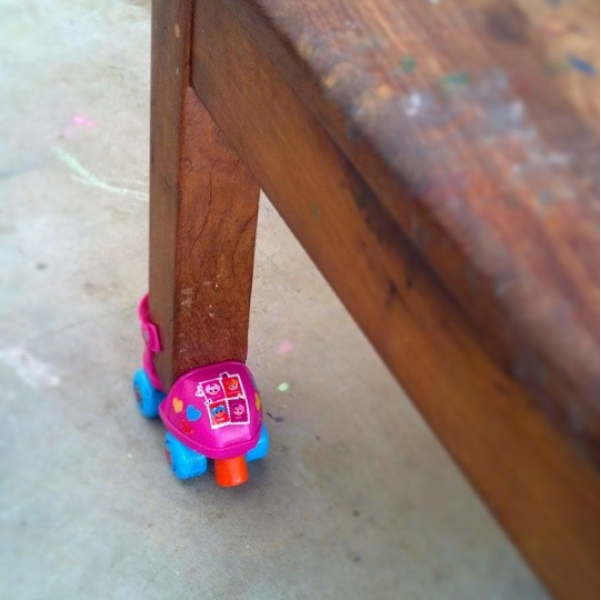 This mom, who used one of those clothing size stickers to keep the Goldfish from going stale: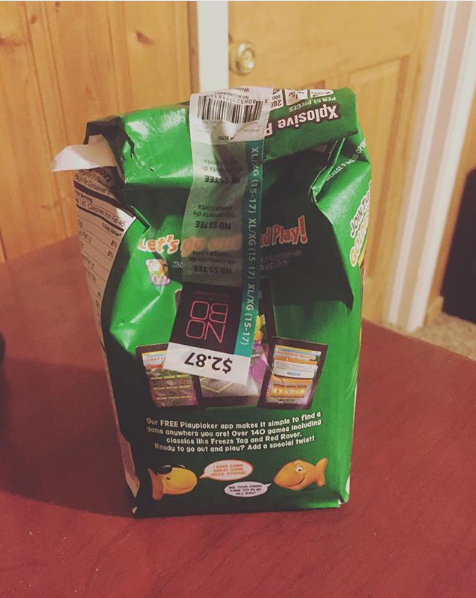 And finally, this mom, who used her shower caddy to get the relaxation she totally deserves: