Create a costume your child won't ever forget (and stay within your budget!).
Pineapple
You don't have to spend a bundle on Halloween to enjoy all the fun when you can make cheap halloween decorations and costumes like these. There's no sewing required for this cute fruit costume. All you need is 1 to 1½ yards of felt, a ruler, and scissors. Want to make sure you kid eats as healthy as this costume looks?
Teenage Mutant Ninja Turtles
Lotus Blossom Photography/Courtesy The Scrap Shoppe Blog
Buy green sweats for your little crime fighter (or white ones and dye them green). Cut out yellow felt for the chest and colored bandanas for elbow and knee pads.  For the shell, spray paint a roasting pan brown. Cut slits on the sides and run a ribbon through it for a belt.
Pippi Longstocking
The Pippi Longstocking costume is a perfect DIY costume for girls with long hair. Start with a striped top, denim skirt, and of course, tall striped socks. Twist two to four pipe cleaners together (the thicker the hair, the more pipe cleaners you'll need) and make braids around the pipe cleaners to make them stick out. Don't forget Pippi's freckles!
Olaf from Frozen
Do you wanna build a snowman? Well, now you can turn your kid into one. Glue felt cut-outs onto a white hooded sweatshirt for the buttons, eyes, and eyebrows. Add a few brown pipe cleaners to the hood for hair. Use orange felt, stuffing, and a wooden skewer to make Olaf's carrot nose.
Stick figure
Courtesy All For The Boys
Trace electrical tape on a plain white outfit for the body, use a paper plate for the face, and you have your own living stick figure.
Unicorn
The horn and wings for this unicorn costume require some paint and glitter glue, but if you have a white shirt and pants, you're halfway done. Tie colorful fabric around your child's waist for the tail. For even more rainbow magic, paint strands of her hair with colored hair spray or use colorful extensions. This "unicorn" dip might get your kids to eat veggies more often.
BB-8
This Star Wars droid is made out of a Chinese paper lantern, a colander for the hat, and LOTS of white duct tape. Add BB-8's designs with a black permanent marker and orange duct tape. (Don't forget to teach your kiddo these Star Wars jokes before you go trick-or-treating.)
Sushi
Turn your little one into an adorable sushi roll. Use fishy-looking fabric to make a pillow that you can tie on with black fabric (the seaweed in your sushi). Add pieces of a shower loofa or fabric for a wasabi and ginger headband. Before you head out, try one of these fun Halloween crafts for kids.
Scuba diver
Recycle empty soda bottles and turn them into an aquatic costume. Spray paint two 2 liter soda bottles and duct tape them to look like oxygen tanks. Glue them to a foam board and strap on with elastic bands. Add flippers and goggles, and you have an adventurous DIY scuba diver.
Mummy
Rip a white bed sheet into strips (ripping makes it look more authentic than cutting) and wrap, wrap, wrap. To give them a dingy color, soak them in coffee water for an hour. Make sure your mummy is wearing white under his or her wrappings.
Alfred Hitchcock's 'The Birds'
Even if your child hasn't seen the Hitchcock classic, this Melanie Daniels costume is too good to pass up. All you need are some fake crows, white gloves, and sunglasses, and your little girl is fighting off bird attacks in Bodega Bay.
Cat lady
Not only is this costume cute, but it'll keep your kid warm during a chilly night of trick or treating. Throw on a robe and grab some stuffed kittens for your cat lady to cuddle. Put rollers in her hair to complete the look.
Prince Charming
Start with a white button down and red pants. Glue on gold buttons and trimming to make your little prince as dashing as can be. Every princess will want him as her date to the Halloween ball.
Bubble bath
Carefully pin white and pink balloons to a white shirt and pants to turn your kid into a walking bubble bath. Don't forget to include a rubber duck for extra bath time fun.
Paintbrush
Let your child embrace his or her inner artiste with this creative outfit. To make the paintbrush hat, poke strong broom bristles into a styrofoam disc (use glue for added stability) and attach the disc to a crown of poster board. Color a giant paint palette, and let the paint master go to work.
Flower pot
Cut leg holes into the bottom of a giant plastic tub, and glue fake flowers to the inside of your "pot."
Charlie Brown
Good grief! This Charlie Brown outfit takes no time at all to make—simply put black duct tape on a yellow T-shirt—but it'll have all your neighbors wondering why they didn't think of it too.
Box of tissues
Turn a cardboard box into a decorative tissue box, like Reader's Digest's features editor Andy Simmons' daughter has done here. Just add wrapping paper and sheets of white tissue paper.
Hot air balloon
Cut leg holes into a basket, and tie on a large balloon with yarn to make your child a hot air balloon explorer.
Jelly beans
Fill a clear trash bag with small colored balloons for your jelly beans. Make sure not to fill the bag too much so your kid still has room to move around. Tape on a Jelly Belly logo, and your costume is good enough to eat!
Little bandit
Outfit your trick-or-treater in black pants, black shoes, and a black-and-white striped shirt. Add a black hat and a black eye mask, and craft a "money bag" out of a burlap sack. The sack doubles as place for your child to stash her loot—of candy, that is.
Beanie Baby
If dressing up as an ordinary lion or tiger seems too easy, take it up a notch with this adorable Beanie Baby costume. Simply print out the Beanie Baby logo (a red heart with white "ty" letters), attach it to a necklace, and wear it with your favorite animal costume. Bonus points if the costume is warm and cozy.
Toy army guy
This creative spin on the soldier costume requires a bit of thrift shopping and a lot of green spray paint. Pick up a can or two along with a plastic helmet, binoculars, a vest, boots, camo pants, and a jacket. Spray paint the ensemble with green spray paint (you'll need to use a layer of primer first) and make sure to get your little ranger to strike his best freeze frame army pose.
Bonus.
Terrorist kid
Baby Hitler
Condom kid
Alien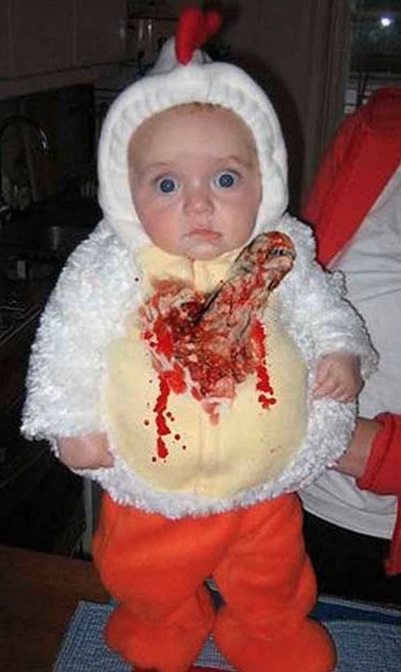 Mr T of the A Team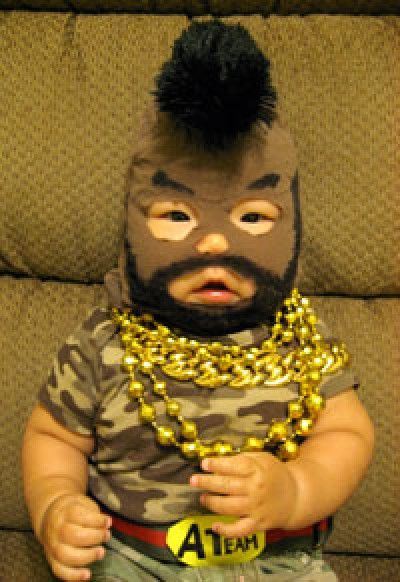 The Situation
Hannibal Lecter
Minecraft baby
The man without head
Jack and cigarettes
Buster from Arrested Development
Lil Wayne and Nicki Minaj
Homeless kid
The Jersey Shore cast
Baby Hooter