Corgis, a unique breed of dogs, have gained increasing popularity over the last few years, from adorable puppy photos to funny memes, this particular breed of dogs have become a staple of the internet.
Commonly known as the "dwarf dog," this small herding dog has been mixed with other breeds of dogs, resulting in delightful combinations.
Check out 15 of the cutest Corgi Crossbreeds below:
1. Corgi & Dalmatian
Now that adorable smile says it all! This little guy has the spots of a Dalmatian, with the facial features and pointed ears of a Corgi, resulting in a blend of the best of both worlds.
2. Corgi & Golden Retriever
This blend has the identical face of a Golden Retriever, combined with shorter, stump-like body of a Corgi. Plus, you can't overlook that perfect, golden-colored coat either.
3. Corgi & Chow Chow
Chow Chows are occasionally categorized by their colorful, assorted personalities. This hybrid exhibits the facial features and soft, thick coat of the Chow Chow, along with the distinctive pointed ears of a Corgi. I mean, how could you say no to those puppy-dog eyes…even when he's begging for your last bite?
4. Corgi & Shiba Inu
Combining the sweet demeanor of a Corgi and the dynamic personality of a Shiba Inu, this mixed-breed is a bundle of energy that's alert as can be, making this pup a devoted and steadfast companion.
5. Corgi & Pomeranian
Tiny but mighty, this hybrid encapsulates the fox face and dainty size of a Pomeranian, packed with a little more mass from its Corgi genes. This pup makes for the perfect cuddle buddy, as he's soft, fluffy, and simply too cute to handle.
6. Corgi & Australian Shepherd
By nature, Australian Shepards are loyal, protective, and affectionate. Combine that, with those icy blue eyes and patchwork fur, and this pup is irresistibly adorable. Cuteness Overload!
7. Corgi & Beagle
This mixed breed encapsulates the smaller size of a Corgi, while combining the playful energy and caramel coating of a Beagle. Plus, how could you say 'No' to those round, puppy eyes and large black snout.
8. Corgi & Boxer
Similarly to Corgis, Boxers are packed with a great deal of mass in their little bodies. This blend of the two breeds creates a hybrid that is not only muscular and watchful but also as sweet as can be.
9. Corgi & Siberian Husky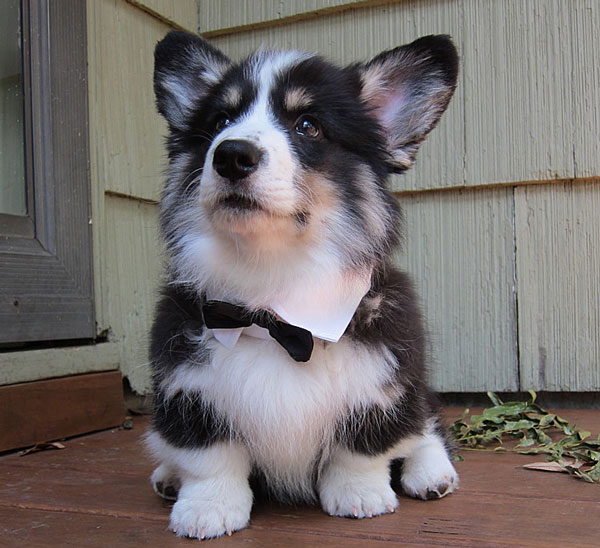 Siberian Huskies are traditionally known for their wolf-like resemblance, yet despite their primal appearance, they actually make for great family dogs. This little pup is undoubtedly adorable, combining the full coat of Husky with the size and gentleness of a Corgi.
10. Corgi & Labrador Retriever
Labradors are known for being one of the friendliest dog breeds, and are a delight to have around young kids and families. This little guy has the dwarf-like body structure of a Corgi, along with the distinct facial features and coat of a Lab. This little pup makes for a perfect, compact family dog.
11. Corgi & Chihuahua
At its handheld size, this petite combination is so small, enabling this crossbreed to easily be taken on the go. While this hybrid is generally easy going, they also highly crave the attention of their owners. And while some consider Chihuahuas to have a little chip on their shoulders, they're most definitely more bark than bite.
12. Corgi & Pug
Combining the flat face of a Pug and midget-like body of a Corgi, this blend is smart, fun-loving, and charming. Plus, as you can see, this hybrid has some of the most distinctive, and amusing, facial expressions.
13. Corgi & Shar-Pei
Shar-Peis are distinctively known for their very wrinkled faces and larger size. By crossbreeding a Corgi into the mix, this hybrid decreases in size but maintains the same alert and independent personality.
14. Corgi & German Shepherd
This hybrid looks like a miniature German Shepherd, with its nearly identical facial structure and coloring, but again, incorporating the unmistakeable short legs of a Corgi. This combination is known for being highly intelligent, obedient, and make for great family dogs.
15. Corgi & Pitbull
Occasionally referred to as 'Porgis,' this hybrid combines the pointed ears of a Corgi with the posture and built of a Pitbull.
As you can see, there is a common theme is all these Corgi Crossbreeds, in that, these pups are thoughtful, highly trustworthy, and make for great companions and family dogs.